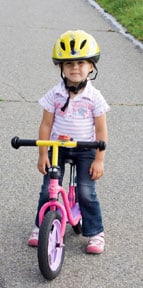 © Anna Karwowska | Dreamstime.com
Whether riding on the back of a parent's bike or pedaling one of their own, most children love the experience of bicycle riding. And for some families, a bicycle may be the most practical mode of transportation.
Be aware that in some states bike seats for children are not considered safe and have been banned.
Kids as Passengers
If you do take your young child along on a bike, ride only on quiet streets, on bike paths, and in parks. Ride at slow speeds, allowing extra time to brake. Go only in good weather and full daylight.
Before their first birthday, babies are too young to ride as bike passengers. Carry tots from 1 to 4 years (no more than 40 pounds) in a bike seat that protects feet and hands from the bike's spokes.
Make sure the seat is correctly installed and also install a spoke guard. Try out your child in the seat to be sure there is no chance of falling. Be sure to belt your child into the seat, and both you and your child should wear helmets.
Kids On Their Own
As the first safety checkpoint, look over your child's bike. Is it in good working condition? Is it the right size? If it is the right size, your child will be able to hold onto the handlebars while sitting on the seat and touch the balls of both feet on the ground at the same time. While standing on the ground over the bike, your child should clear the bike's cross bar with at least 1 inch between crotch and crossbar.
Next, check out how well your child can ride. For safety's sake, be sure your young cyclist can do the following:
* Squeeze both hand brakes at once to stop the bike.
* Ride in a relatively straight line.
* Stop quickly and get off without falling.
Once you are confident of your child's ability on the bike, it is important to teach basic biking safety:
* Stop at all intersections with or without a stoplight or stop sign.
* Follow all traffic rules and ride to the right side.
* Ride only in daylight, not during or after dusk.
* Wear a helmet and bright clothes that are easy for drivers to see.
TIP: Do not ride double or on a borrowed bike.